Over a year ago, I released Weathering the Wicked, which captivated my readers with strong characters, beautiful imagery, and a world so enchanting, you can only dream about it: Folklaria. 
I am ecstatic to finally have book 2, Enduring the Energy, available for pre-order!
June thought she was stepping back into mortal life as usual; but little did she know, she wasn't going back to live on Earth…ever.
In book two, you were swept into the magical land of Folklaria, while June set off to rescue her twin sister from a wicked sorcerer, Murdolf. Now, the real challenge awaits her. She thought fighting off a wicked sorcerer was a challenge, but what will she do when she faces the most wicked villain in Folklaria, armed with limitless powers? Mutar, who was stuck in the wicked lamp for thousands of years, is now unleashed and his powers are in the hands of someone who seeks to destroy June, even if it means destroying the entire world.
From a trippy run-in with a magical mushroom village, to fighting a glamorous and egotistical golem king, and all the way to falling deeper in love with Ryder, this fast paced page-turner will keep you on the edge of your seat.
Will peace ever be restored to Folklaria?
Purchase Enduring the Energy, book 2.
Purchase Weathering the Wicked, book 1.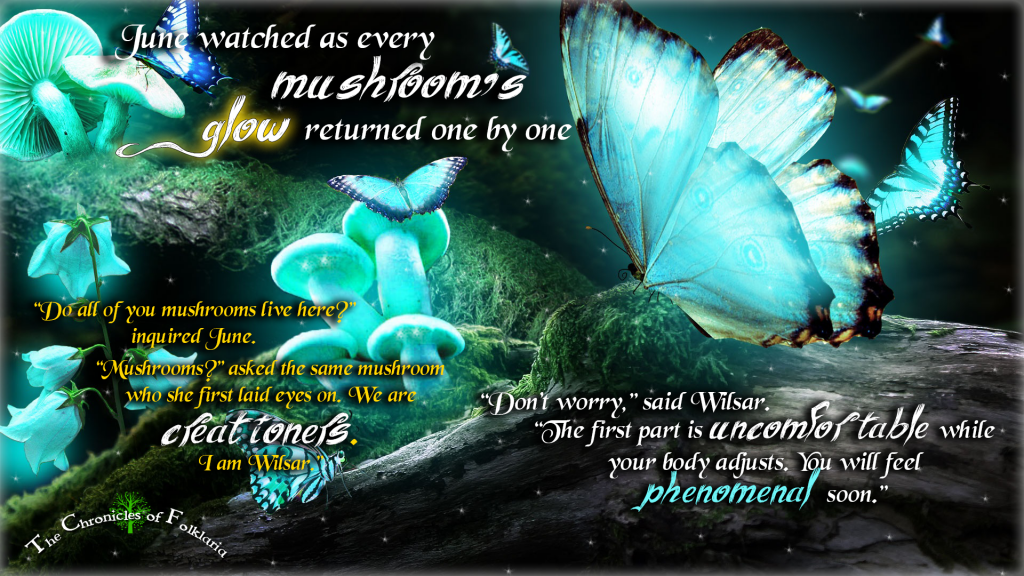 In this teaser, you get a snippet of a trippy scene from Enduring the Energy. In this scene, June stumbled upon a field of magical talking mushrooms.
Book 2 in The Chronicles of Folklaria is not short of villainous terror. There happens to be four antagonists in this Folklaria story! But the you see in this picture, who takes center stage in the story, takes wicked to a new level.
You first met Murdolf in book 1, Weathering the Wicked. June thought she had defeated Murdolf for good, but his plan for Folklaria's demise was only revving up. 
Will Murdolf's twenty year plan finally unfold in his favor? Or will June kick her crippling fears in the face and take Folklaria back?
Trailers
https://www.youtube.com/watch?v=g_dg7plTA-Mhttps://www.youtube.com/watch?v=4hx5iBiZ2fk