Review of Shadow Witch by J. Thorn and Dan Padavona

If you love a good page-turner that will leave you hiding underneath your blankets, then Shadow Witch is the next book you need to read!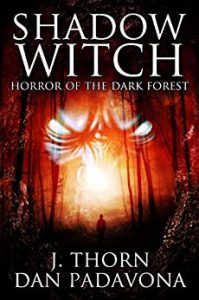 I love fantasy and I love horror, so when the two are combined, it's RIGHT up my alley.
This book grabs you from the very first page. I had to know if Thom was going to find food for his family to survive the drawn out winter.
What starts out as a yearning for winter's end, turns into everyone's worst nightmare: Being stuck in the woods, unable to get out. Oh, did I mention the woods are haunted by a terrifying shadow witch?
The way the authors are able to describe every little detail around them in a way that forces you into the story, was such a breath of fresh air. Not all authors have this capability. I could feel the fear of the characters because I could see it, thanks to Thorn and Padavona's impeccable descriptive writing.
Another thing I love about this book is that, while it was very descriptive, it wasn't overly gory at all. I love being scared, but I don't want to be grossed out!
I highly recommend this to anyone who loves a good dark fantasy, and wants to be spooked to the core!